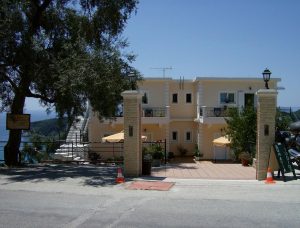 NIKOLAOU BROS studios are located in the Valtos area above the beach (click for photo), approximately 500m from Parga's Castle and 800m from the town center.
Valtos beach with its blue waters in a distance of 300m, is offered for unforgettable holidays.  From our balconies you can enjoy not only the view of the Ionian Sea but also the sound of the waves.
Our building has 4 twin room studios, 4 four-bed studios, and 4 four-bed suites 50sq.m. each. All studios include a fridge, a cooker with the necessary utensils, a dining table, a colored TV and air-conditioning. Free Parking is offerred for all our customers.
Arrival time: 14.00 ' & Departure: 12.00 '
For departure afterwards 12.00, an overnight stay is debited and only after agreement. 
Cancellation of reservations:  For this it is supposed that a notice exists at least 20 days before the arrival.  Then, the 50% of the advance payment is refunded.  Otherwise, the advance payment is not refunded.
Please contact with Hotel for availability and Prices